Keep Hamilton Beautiful is part of a global trend to help clean up the world.
Keep Hamilton Beautiful is closely associated to Keep New Zealand Beautiful. We all are out there across Aotearoa doing awesome things everyday and inspiring others to take care of our beautiful 'back yard' because she deserves to stay that way.
If you want to come and join a clean up, we would love to have you!
Find out WHY we do what we do!
Anna wanted to create a supportive community of like minded individuals with a purpose
'Through positive action creates positive influence and positive change'
Supporters & Sponsors
We rely on the help and support of wonderful people and companies in our community.
What is the Tetra Pak drop off about?
An amazing machine from Saveboard.nz is here in New Zealand to repurpose your Tetra Pak containers, as well as other waste materials (in the future - coffee cups and soft plastics). They are creating building materials and items that can be repurposed and reused.
*Standby for videos and images of the new machine functioning.
First Wednesday of the month
Keep up to date with our latest news and Tips & Tricks
Follow us on social media!
Check our or Merchandise
Think Uniforms are helping us with our awesome Keep Hamilton Beautiful merch!
Use this form to make an order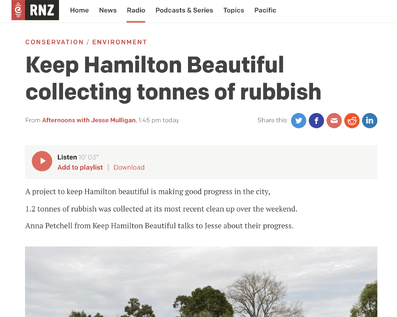 Keep Hamilton Beautiful speaks with Jesse Mulligan on RNZ
Anna and Jesse speak about Keep Hamilton Beautiful and the importance of rubbish clean ups.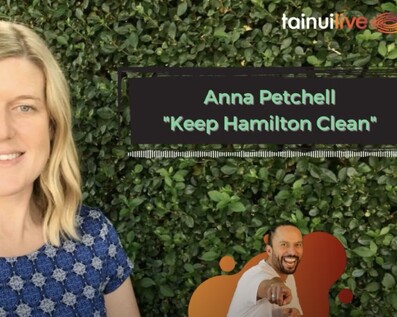 Anna and Hemi talk trash on Tainui Live
Hemi and Anna talk Trash on Tainui Live. Why being a tidy kiwi is important, Tetra Pak and other things green.